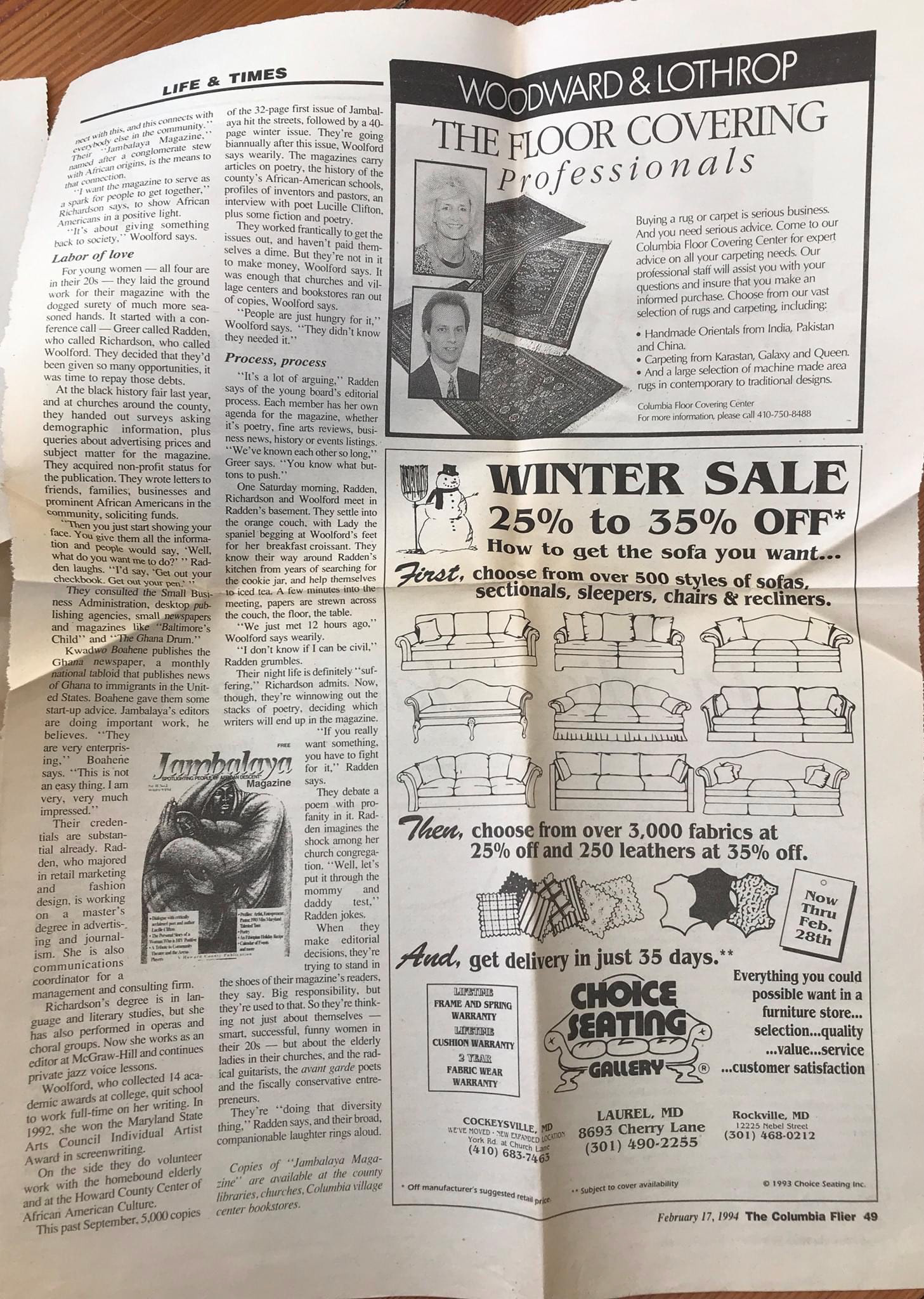 Writer, filmmaker, and performer 

Pamela Woolford

begins her career in the arts in the early 1990s, writing poetry and short stories selected for literary journals. She also writes her first screenplay, "Emile," based on her short story of the same name in which a young black man is called the "n" word, leading to a series of events changing the trajectory of his life. For "Emile," Pamela earns a

Maryland State Arts Council Individual Artist Award

and grant in screenwriting. 
In 1992 she co-founds the nonprofit

Jambalaya, Inc., for which she soon serves as edit

or of

Jambalaya Magazine

and then director of the

Maryland Jambalaya-Fest

. Both projects spotlight and celebrate the diversity of people of African descent. For the magazine Pamela interviews such luminaries

as

 Lucille Clifton

 and Wintley Phipps. 

For her work with the organization, she becomes the recipient of honors, including a Maryland House of Delegates Official Citation and local commendations

 from the

NAACP, the National Association of Negro Business and Professional Women's Clubs

, t

he Office of the Howard County Executive,

and the Howard County Black Student Achievement Pro

gram.
Soon she begins writing literary journalism in addition to her fiction and interview work, including a think piece on race, art, and public funding, which the 

Howard County Arts Council

 publishes in the mid-'90s. In 2000 she becomes a correspondent for

The Baltimore Sun

, writing human-interest stories for her bylined Neighbors column, and also writes a separate column of book-club profiles for the paper and other articles profiling the extraordinary in ordinary lives.
By now she is writing freelance for journals, too. Her most cited freelance article becomes "Filming Slavery," her interview with independent filmmaker Haile Gerima after the release of his film Sankofa. She publishes "Filming Slavery" in 1994 in

Harvard University's Transition. 

​​​​​​​It remains, over decades, required reading for courses at colleges and universities. The books and scholarly works in which "Filming Slavery" is cited include

L.A. Rebellion: Creating a New Black Cinema

edited by Allyson Nadia Field, Jan-Christopher Horak, and Jacqueline Najuma Stewart (University of California Press, 2015) and

Shaping the Future of African American Film

by Monica White Ndounou (Rutgers University Press, 2014).
The same year she publishes "Filming Slavery," Pamela begins performing as a dancer, becoming a member of

Aurora Dance Company

, a modern and West African troupe then in

residence at Howard Community College

in Columbia, Maryland. Soon she performs, in concerts and at festivals, her own solo fusion choreography and Middle-Eastern dances by others, including renowned world-fusion choreographe

r Dalia Carella. A

longtime student of various dance forms, including modern, West African, Caribbean, Middle Eastern, and Katherine Dunham techniques, she studies with choreographers
MiaNaja Al Sephira,
Lotus Niraja, and the late Eva Anderson among others.
Having studied voiceover acting with dialect and voice instruct

or Nancy Krebbs, she

performs her first voiceover recordings in 2003, doing PSAs for the

City Museum of Washington, D

C

, and the

Historical Society of Washington, DC

. and in 2014 records voiceover for the play Souvenir: A Fantasia on the Life of Florence Foster Jenkins at

1st Stage Theatre

in McLean, Virginia.
In 2016 she models for a representation of enslavement of African people for photographer

Fabrice Monteiro

and documents the experience in her essay "Here I Am Looking" for Eunoia Review

,

whi

ch is then translated into German for 

Briefe aus Amerika

and selected for the anthologies 

Fantasma: An Anthology of Whispers 

edited by Adura Ojo and David Ishaya Osu and 
Fury: Women's Lived Experiences During the Trump Era
 

edited by Amy Roost and Mary McNaughton-Cassill. Her selection for Fury is accompanied by an interview aired on the podcast of the same name.
Also in 2016, she writes and directs film scenes for her conceived multidisciplinary memoir collection

Meditations on a Marriage

, excerpts from which place her on the shortlist for the 2017

Fish Publishing Short Memoir Prize

and make her a 2016

Tucson Festival of Books Literary Awards

finalist. That year she is featured with an interview on the filmmakers' site

The Creative Outsiders

. The following year she scripts and directs 

Truth & Story

, a vlog co-hosted by her and her mother, Sadie Woolford, who is also a writer.
Pamela's connection to storytelling in all its forms—filmmaking, writing, performing—begins in childhood, listening to her mother read to her classic literature, myths, fables, and fairytales and listening to Sadie's stories of growing up in rural North Carolina in the '30s, '40s, and '50s—a life far removed from Pamela's suburban Columbia, Maryland, upbringing. It is these stories and the classic literature Sadie reads to Pamela as a child that inspire Pamela, decades later, to write her short story "Just After Supper," from which she eventually adapts the script for her short film

Generation

.
Pamela publishes "Just After Supper" in

Origins Journal

 in late 2016. Just weeks later novelist and Pushcart Prize editor 

Mark Wisniewski

nominates "Just After Supper" for a 2018

Pushcart Prize

. Also in late 2016, Pamela publishes her short story "Pleasant People" on the site

Alfie Dog Fiction

, reprinted from the 2012 anthology

Amazing Graces

edited by Richard Peabody. Then "Pleasant People" is also nominated for a 2018

Pushcart Prize

.
In early 2018 Pamela completes work on her

experimental solo-screendance short Generation, which she writes, directs, edits, and sound de

signs. She is the primary actor and dancer and performs the voiceover narration of the elderly woman. Sadie co-stars and serves as executive producer. Generation is selected for several festivals, including touring collections, and wins a 

2018 North Beach American Film Festival Jury Award

and

a 2018 Experimental Forum Honorary Mention Award

.
Author of more than 100 essays, short stories, and articles published in newspapers and journals, Pamela, in 2014, authors a nonfiction book for a public figure as a ghostwriter for BusinessGhost. In 2017 she writes the essay "My Father with This Illness" for inclusion in the anthology

Love in a Silent Storm

edited by

Marita Golden,

alongside writings by Edwidge Danticat and Julie Otsuka.
In addition to her work as an artist, Pamela spends her career working in arts and nonprofit administration and PR and marketing for museums, helping to raise millions of dollars for arts, cultural, and community-enrichment projec

ts; designing and promoting programs featuring artists like Rita Dove, Billy Collins, and Rachel Eliza Griffiths; and garnering project support in the form of local, national, and international media attention as well

as support from private corporations, public agencies, and elected officials.
Pamela's creative work today is primarily concerned with the lives of black women and girls and others whose joy, history, and inner life are underexplored in American media and popular art. At heart, she is a storyteller—telling creative nonfiction stories, fiction inspired by true-life stories, and fiction inspired by the history of a people.